Process control applications range from small laboratory automation systems to large plants. The process control system offered by B&R offers significant scaling options that allow you to cover all areas of the application. It also provides support to system integrators and operators throughout the life of the system - from planning, creating and configuring libraries to commissioning and operation. Seamless integration and intuitive operation reduce installation times and ensure the highest level of machine and system productivity, while providing flexibility when changing products.
Effective production control
Higher production quality
On-line analysis of production errors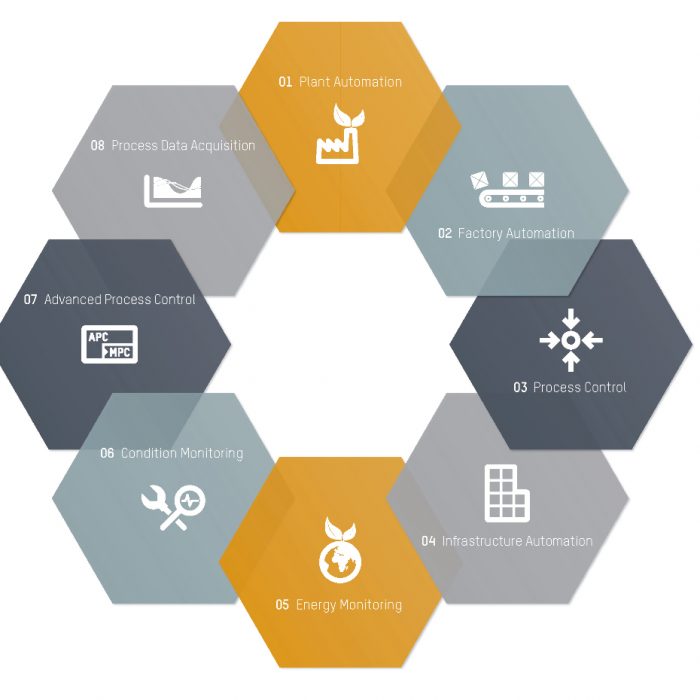 Integrated energy measurement modules supply all electrical values ​​and quality assurance data. Data is collected from all energy sources (natural gas, oil, etc.) to ensure complete and automatic collection of all energy consumption. Energy management systems defined in ISO 50001 can be easily implemented by measuring and displaying consumption and cost data. Historical data allows for a detailed analysis of energy consumption, which makes it easier to identify cause and effect.
Online vibration measurement integrated in the I / O modules makes it possible to identify the mechanical condition of the machine and allows early detection of power reduction to prevent serious damage. Predictive condition-based maintenance reduces the number of unforeseen outages, keeping repair costs to an absolute minimum.
It is possible to regulate several interdependent physical values ​​simultaneously, because the predictive model uses real process models. Operators can optimally compensate for failures and optimize the size of system components. Advanced process control modules can be used to optimize throughput and maximize efficiency.
Centralized data acquisition from machines and systems enables comprehensive performance monitoring and visualization. Long-term archiving ensures the ability to assess the quality of the production process. Integrated reports provide detailed analysis of all process data in order to optimize production processes. The combined display of ongoing data, alarms and events in TrendViewer makes it easy to track cause and effect.