Proccess control system Aprol
Process control applications range from small laboratory automation systems to large factories. B & R's process management system provides significant scalability options to cover all areas of the application. It also provides support to system integrators and operators throughout the system's lifecycle – from planning, creating libraries and configuration to commissioning and running. Seamless integration and intuitive operation, shorten setup times and ensure the highest level of machine and system productivity while providing flexibility when switching to a product.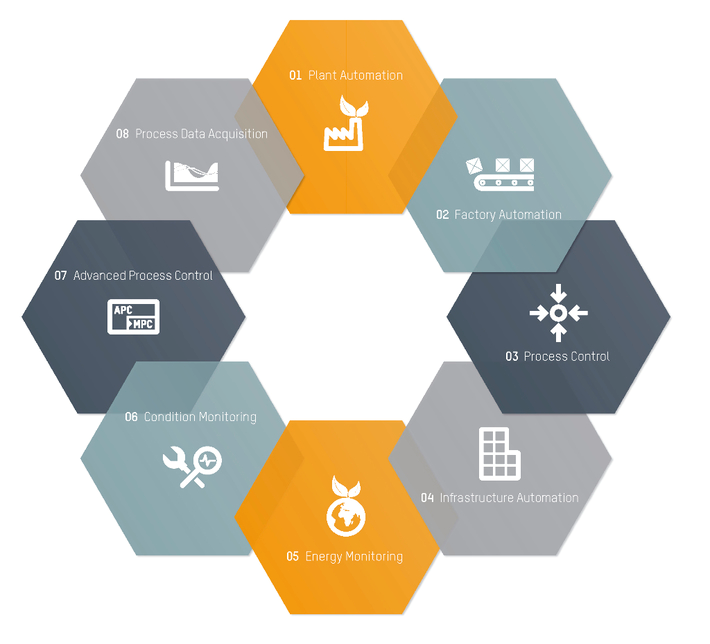 Standardized system components developed with object-oriented programming allow modularization of entire systems. At the same time, the associated time and commissioning costs are reduced. Centralized project management, together with a standardized library, facilitates and streamlines system maintenance around the world. System availability is maximized by secure, integrated remote access for maintenance, service and upgrading.
Automation at the factory includes, for example, automation of assembly line lines, for example in the automotive and food industry. Centralized data acquisition from each module in the production line enables comprehensive online performance control. Material flow tracking allows each completed production step to be traced easily.
A fully integrated process control system massively reduces the amount of technology on the one hand and, at the same time, reduces operating and maintenance costs over the lifetime of the system, on the other. The integrated version management system will accelerate system validation. Integrated alarm and trend systems ensure complete transparency without additional costly expert systems.
Infrastructure Automation
Centralized data acquisition from machines and devices using standard protocols enables comprehensive monitoring and visualization of online performance. Consistent archiving provides long-term documentation for quality control. Integrated standard reports are the basis for a convenient and detailed analysis of all process data for continuous improvement of production process.
Integrated measuring modules supply all electrical and quality assurance data. Data is collected from all sources of energy (natural gas, oil, etc.) to ensure complete and automatic collection of all energy consumption. Energy management systems as defined in ISO 50001 are easy to implement by measuring and displaying consumption and cost data. Historical data allows a detailed analysis of energy consumption, making it easier to identify cause and effect.
The online vibration measurement integrated in the I / O module allows you to identify the mechanical condition of the machine and allow early detection of degradation to prevent serious damage. Predictive data-based maintenance reduces unpredictable downtime to keep downtime and repair costs to an absolute minimum.
It is possible to regulate more interdependent physical values at the same time as the model predictive regulator uses models of the actual process. Operators can optimally compensate for failures and optimize the size of system components. Advanced process control modules can be used to optimize performance and maximize efficiency.
Centralized data acquisition from machines and systems enables comprehensive monitoring and visualization of online performance. Long-term archiving ensures the ability to assess the quality of the production process. Integrated reports provide a detailed analysis of all process data to optimize production processes.Combined view of TrendViewer current data, alarms and events makes it easy to trace the cause and effect.
For more information call or write